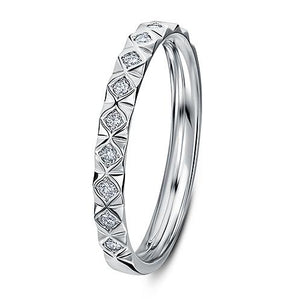 Tesoro Wedding Ring
Regular price
$2,310.50
$0.00
Unit price
per
Tax included.
Shipping
calculated at checkout.
Launching the 'Tesoro' collection by Andrew Geoghegan, created in collaboration with Gill Wing Jewellery and exclusively available through the gallery and our online shop.
"Harmony between mathematical perfection and the beauty of nature, this design is based on the principles of an ancient formula discovered in nature by Fibonacci. Known as the golden ratio it is said to be the key to natural beauty and balance. For our very special ring collaboration Andrew Geoghegan has reimagined and refined the botanical into precious perfection in a completely unique design evoking the petals of a succulent plant. Breathtaking from all angles this elegant 18ct white gold ring sparkles with diamonds to beautifully complement the matching Tesoro engagement ring also available at Gill Wing & designed by Andrew in this collaboration.
The concept of using Fibonacci's formula as inspiration came from Gill Wing's love of botany and the flourishing tree fern in our hidden garden which overlooks our Islington jewellery gallery. We chose the name Tesoro which is Italian for "Treasure" as this is a ring to be discovered and cherished.
Size M, the first resize is complementary.
The Designer
Since 1998, Andrew Geoghegan has been garnering a reputation for precision – designed chic; for pieces that unify sometimes seemingly contradictory elements – angular facets and soft curves, warm shades and metallic coldness. Unity is an ever-present theme and inspiration – of people and personalities as much as gems, precious metals, iridescent colour and striking form. Today's collections show the power of intricate design and detailing to fuse these elements into exquisite, timeless jewellery.
Jewellery Care
To look after your jewellery we recommend it must not be worn in the bath, shower or whilst swimming and we advise any perfume or hairspray is to be applied before putting on your jewellery to avoid contact with chemicals and cosmetics. Please remove your jewellery before engaging in practical activities such as sport. 

Please get in touch to enquire about our cleaning services and restoring surface finishes.  
---