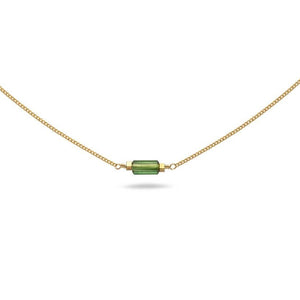 Tourmaline And Hematite Bead Necklace
Regular price
$264.11
$0.00
Unit price
per
Tax included.
Shipping
calculated at checkout.
Simple, delicate and timeless. A shorter length 16" necklace featuring a beautiful green 6mm tourmaline bead and tiny gold hematite cubes on fine 9ct yellow gold chain with a tag and bolt-ring fastening. Perfect for layering with other necklaces or worn alone for simple, sophisticated style.
Tourmaline is one of the birthstones of October, and is the more durable of the two, its counterpart being opal. Pink tourmaline embodies love and is associated with compassion and gentleness. It is also the gem that married couples traditionally gift on their 8th wedding anniversary.
The Designer
Mim Best is a Bristol based contemporary jewellery designer who's style combines fashion-forward statement pieces and delicate timeless classics, appealing to a wide audience. With over 20 years bench experience, Mim has become a highly skilled jewellery designer working from her Bristol studio and developing her own silver and fine jewellery collections.
Her inspiration comes from simple shapes, pattern, print and surface textures; always seeking to find and create interesting details. From a very young age she developed a fascination for jewellery, in particular ancient, ethnic and tribal jewellery from all over the world; captivated by the stories and the symbolism behind the pieces, the intricate details and the meticulous level of craftsmanship often involved.
Working primarily with recycled silver and gold, she uses traditional making techniques and often stamps the metal to create unique surface textures. Much of her work is then embellished with precious gemstones and intricate wire-wrapped beads. This collection demonstrates her meticulous attention to detail as well as a lifelong obsession with her craft, resulting in original, elegant and beautifully executed designs.
Jewellery Care 
To look after your jewellery we recommend it must not be worn in the bath, shower or whilst swimming and we advise any perfume or hairspray is to be applied before putting on your jewellery to avoid contact with chemicals and cosmetics. Please remove your jewellery before engaging in practical activities such as sport. 

Please get in touch to enquire about our cleaning services and restoring surface finishes. 
---