Clio Saskia has transformed our window display with a selection of sketches, wax models and tools, giving us an exciting insight into the maker's processes.
---
• Exhibition • Idris Elba • June • London Fashion Week • Pearl • Pearls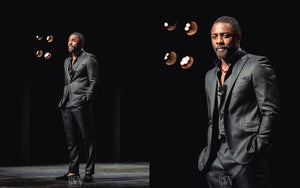 Our pearls at Ozwald Boateng's fashion show worn by Idris Elba!
We were so thrilled to show a selection of our pearl necklaces by pearl specialist Annette Warham at Ozwald Boateng's fashion show at the Savoy Theatre. Celebrity models included Nicholas Pinnock, Goldie, Dizzee Rascal, Pa Salieu, and Kojey Radical. The highlight of the show was Idris Elba smoldering in a set of red pearls.
---
Cheshire jeweller Julie Mellor's latest collection invites us to slow down and join an imaginary autumnal walk in our favourite parts of the countryside; from coast to woodland. The small objects found and pocketed along the way provide an intimacy, as a tangible piece of a larger landscape. These could be fragments of shells picked up on the beach, the perfect twig from trees like oak and birch, or seeds from a pinecone or stolen cherry.   These gathered objects are then transformed into metal; often as a direct cast from nature, which burns away the original organic material so...
---
Wear secret symbols and send hidden meanings with botanical flower engraved signet rings   We are so excited to bring you the beautiful botanical designs of Erin Claus all the way from New York as a U.K exclusive for Gill Wing Jewellery!  We curated a selection of our favourite botanical rings, pendants and stud earrings from the iconic designer's silver and fine gold collection. We only have one of each design so get them while you can! SHOP NOW   We felt Erin is a kindred spirit with us here at Gill Wing and we're so happy to be her U.K...
---
• Anna Wales • Found in Translation • Laura Ngyou • London Craft Week • Lucie Gledhill • Rachel Jones • Romilly Saumarez Smith
During the month of September, we hosted 'Found in Translation'  in our gallery as part of London Craft Week 2020. This special event celebrated the unique qualities of handmade jewellery at its core. We featured the individual works of five artisan jewellers, connected by a special working relationship. The jewellers had their own unique way of translating precious and non-precious materials into their recognisable style, or "voice", as an artist, as well as acting as jewellery 'translators' for Romilly Saumarez Smith - a master craftswoman who is no longer able to make pieces using her own hands due to a...